Memorial marks Hopton Wood Stone's graves contribution to WWI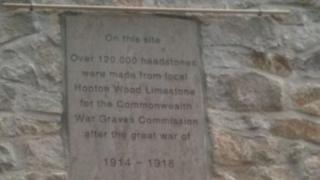 A commemorative stone has been unveiled at the site where gravestones were made for fallen soldiers in World War One.
The Hopton Wood Stone Company in Middleton-by-Wirksworth, Derbyshire, produced more than 120,000 headstones from the early 1920s.
The firm became a major contractor for the Imperial War Graves Commission with headstones being shipped to France and Belgium.
Canon Keith Orford said people were unaware of the town's heritage.
"This is a fascinating piece of history," he said, leading a service for those who worked at the factory.
"Not everybody in Derbyshire realises just how significant the area's contribution was in terms of the stones made here and the people who came from all over the country to work as stone masons."
The gravestones were made from the locally quarried Hopton-Wood limestone which has also been used for the Houses of Parliament, Westminster Abbey and Derbyshire's Chatsworth House.
Stone masons from all over the country travelled to Derbyshire to cut, dress, polish and engrave the headstones.
Peter Slack who helped organise the memorial at the former factory site said it had been two years in the planning.
He added: "I thought there is all this heritage and it is going to be forgotten about.
"I think the stone masons would be pleased their work had been recognised and not forgotten. It is there for future generations to learn about."