Al-Madinah free school making 'reasonable progress'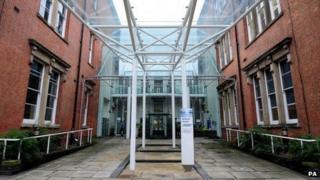 Inspectors have concluded the troubled Al-Madinah free school in Derby is making "reasonable progress" towards getting out of special measures.
In October, Ofsted found the Muslim faith school, for pupils aged four to 16, was chaotic and inadequate.
Chairman of the school Barry Day, who was brought in to help, said he was pleased but there was still more to do.
The Department for Education (DfE) said it was encouraging but there is a "long way to go".
Mr Day, head of the Greenwood Dale Foundation Trust (GDFT), one of the largest education trusts in the East Midlands, was brought in to help turn the school around.
He said there would be "considerable" improvement by the time of the next Ofsted monitoring visit.
"[Parents] can have a much higher degree of certainty that their children are going to be increasingly well taught and be successful at this school," he said.
'Far too slow'
The report, following Ofsted's special measures monitoring inspection in March, concluded the quality of teaching in the primary school was improving overall.
It said children in the early years foundation stage were making "more rapid progress".
However, inspectors concluded that progress made by students in the secondary school had not improved and remained "far too slow" to enable students to achieve the standards they were capable of.
A spokesman for the DfE said the trustees were taking steps to improve the school.
But he added: "Al-Madinah still has a long way to go before it meets the high standards we expect, but this is good progress.
In February, the DfE announced secondary education would close at the end of the summer term.