Animal rescue centre owner Lindsay Newell denies neglect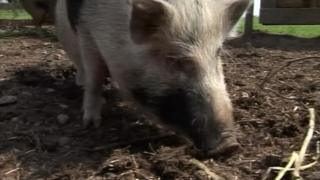 An animal rescue centre owner wept as she told a jury she spent large sums of her own money caring for her animals.
Stafford Magistrates' Court heard Lindsay Newell, of Burton upon Trent, denies 31 charges related to neglect of animals.
She she spent all her free time at the Burton Wildlife Rescue and Animal Centre in Derbyshire.
The prosecution claims Ms Newell did not arrange for veterinary treatment or feed the animals properly.
Police and RSPCA officers raided the centre in November 2012 after members of the public raised concerns.
It was revealed in court on Tuesday that a pig, previously found living in a Derby council house, died during the raid because it was "seriously undernourished" and a goat was found in an "emaciated" state.
The Gloucestershire old spot pig, named Babe, made national headlines when it was found living in a council house in Sinfin in March 2012.
Its dying moments were filmed by a trading standards officer on his mobile phone.
Inspectors said they also found a dead sheep at the rescue centre and pigs living in a rabbit hutch.
However, Ms Newall told the court some of the animals had been moved in the days prior to the raid after parts of the centre had flooded.
This was the reason for animals needing to be put into temporary accommodation, she told the jury.
Ms Newell, 27, of Lincoln Road, Stapenhill, was not based at the centre full time, the court heard. She was often out in the evenings on rescue missions.
The trial continues.