Derbyshire County Council urged not to cut adult care services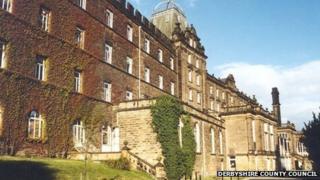 A disability group has urged Derbyshire County Council to charge people more for adult care services instead of cutting them completely.
The council says it must save up to £65m from its £205m budget for adult care services.
One proposal is to change the eligibility threshold for people who receive support from the council.
Derbyshire County Learning Disability Partnership Board (LDPB) said its members would be prepared to pay extra.
Paul Lobley, chairman of the board, said: "We understand that they need to make cuts. Their government grant has been cut and they've got this hard decision to make.
"The people we've discussed this with would rather pay more for services such as transport, or housing, or day care than actually lose them."
The council's four proposals are:
Raise the eligibility threshold so only people who have been assessed as having "substantial needs" or above receive ongoing support.
Charge people a higher contribution for adult social care services they receive through the council.
Reduce the council's housing-related support budget.
Change how transport to day care services and other activities is provided or arranged by the council.
A consultation ended on Monday and the council is now considering the responses.
Clare Neill, the council's cabinet member for adult services, said: "Over the past few months I have been doing all I can to find ways of mitigating the impact of the cuts on the people of Derbyshire."
She said the council had already made cuts in other areas to meet £157m of budget cuts by 2018, but needed to save more.
"We're now getting to the point where we've got to start looking at the services that we are providing to adults and indeed to children," she added.