Derby house 'deliberately' crashed into with flatbed lorry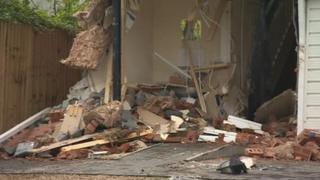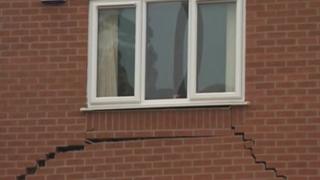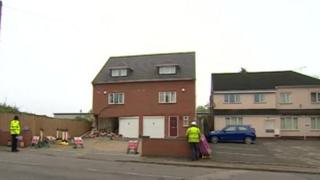 The driver of a stolen flatbed lorry who "deliberately" crashed into a house in Derby in the early hours is being hunted by police.
The semi-detached house was "significantly damaged" but no-one was injured, Derbyshire Police said.
Police said the vehicle was probably driven into the house as "part of an on-going localised dispute".
Neighbour Kay Nyakale said he felt "a large tremor" when the lorry struck the house at about 04:50 BST.
'Left house immediately'
"I came outside and saw a lorry in the yard and the front of the neighbour's house was completely gone," he said.
"We were told to evacuate the house immediately and told it was a health hazard."
The lorry had been stolen from a waste management company in Staffordshire, police said.
No-one was in the property at the time of the crash.
The area around the house on Nottingham Road in Spondon, between Willowcroft Road and Cambridge Street, was closed while an investigation took place.
Police are appealing for anyone with information to contact them.
No-one has been arrested, but two men were seen driving away from the scene in a white van.