Heanor to get new library at cost of £892,500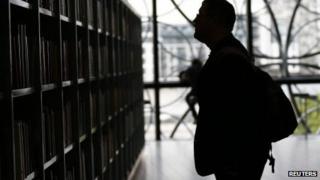 Nearly £900,000 is to be spent building a new Derbyshire library after the existing library was condemned on safety grounds.
A structural report recommended Heanor Library, on Ilkeston Road, should close unless it was immediately renovated.
Derbyshire County Council, which approved the plans for the new library, said the revamp would have cost more.
The authority added it was close to securing a deal to open a temporary library in the town centre.
The current library will be demolished, after it closes on Thursday, to make way for the new £892,500 library and car park.
The new library would feature an "improved" children's library, a health and wellbeing zone and areas for public events such as author visits.
The county council said Heanor Library, which was built in the 1950s using timber posts and beams, has needed significant structural repairs over the years and was badly affected by recent winter storms.
Councillor Dave Allen, cabinet member for health and communities, said: "To keep repairing the existing building was no longer cost effective.
"Meanwhile, we're doing everything we can to ensure library users are not without their service for too long."