Derbyshire police and fire services 'could merge'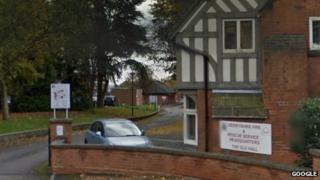 The merger of two emergency services in Derbyshire cannot be ruled out, a police and crime commissioner has said.
A planning application has been submitted for a joint headquarters housing the county's police and fire services.
Under the plans the fire service would close its Littleover base and join the police at a new £14.5m purpose-built site in Ripley.
Commissioner Alan Charles said it would save money in the long run.
'Spirit of collaboration'
It is estimated the plan, which will see some buildings which are more than 40 years old demolished at Ripley, will cost between £13.5m and £14.5m
Refurbishing the current buildings would be cheaper but they would only have a 20-year lifespan, Mr Charles said.
"This is very much in the spirit of collaboration and to try to save funding for local people by being more efficient but not sharing services at this stage," he said.
"What happens in the future, we don't know. It isn't a merging of Derbyshire fire authority and the police. It may well be [in the future] but not at the moment."
Chairman of Derbyshire Police Federation Mark Pickard said he could see how sharing some admin and operational functions could make the two forces more efficient.
And having firefighters in patrol cars when dealing with anti-social behaviour, for example, would be a "good thing".
But he added: "It's always a worry that whenever there's been mergers there have been losses of police officers."
A total of 150 fire service staff and 148 police staff would join the 239 police staff already based at the new facility.
The fire service said its £6m share of the costs would be largely met through the sale of its 19th Century building in Littleover. Derbyshire Police would pay the remaining £8m - £2m more than it was going to pay under an earlier plan to build a new facility for just the police service.
"It's a 125% increase on the original £6m cost but there's a 125% increase in the number of staff and that takes you up to £13.5m," Mr Charles said.
The commissioner is set to agree the plan in principle on Monday.
Amber Valley Borough Council said the planning application could be determined in July.