Derby Hippodrome: Council hints at compulsory purchase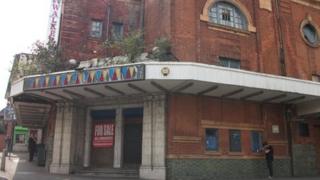 A council leader has said he will consider using compulsory purchase powers to buy a derelict Derby theatre and immediately sell it to campaigners.
The Derby Hippodrome Restoration Trust has been trying to bring the 100-year-old venue back into use since 2010.
But last year, Derby City Council said it would no longer spend money on the theatre because of government cuts.
Council leader Paul Bayliss said he would consider buying the theatre as long as it costs the authority nothing.
'Reasonable sum'
He said the council would be "quite happy" to use compulsory purchase powers to buy the building but there was currently "no evidence of a deal on the table".
The council spent £150,000 restoring parts of the building until it said it needed to prioritise funding for other services.
The trust had hoped to buy the site from the current owner and restore the building into a working theatre at an estimated cost of more than £15m.
After a meeting with Mr Bayliss at Derby Cathedral, chairman Joan Travis said she was "hopeful".
"He did say if there was a possibility of doing a compulsory purchase on our behalf and handing it over on the same day back to back, he might consider it."
She said the money would come from the Heritage Lottery Fund, which has promised the group "a reasonable sum" but not a "ransom".
If the city council does not go ahead with the compulsory purchase, she said the group will consider asking Secretary of State for Communities and Local Government Eric Pickles to compulsory purchase the building.
The Hippodrome, on Green Lane, opened in 1914 and was last used as a theatre in 1959. It then became a bingo hall before closing in 2007.