Derby blue plaque for inventor Herbert Spencer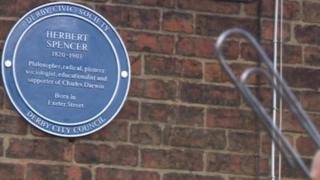 A Victorian sociologist who coined the phrase "survival of the fittest" and invented the paper clip has been honoured in Derby with a blue plaque.
Herbert Spencer, born on Exeter Street in Derby in 1820, became a respected philosopher and political theorist.
Derby City Council, one of the bodies behind the blue plaque scheme, said the "man of so many talents" was still an "inspiration to us now".
The plaque was unveiled at the Exeter Arms public house on Exeter Street.
Mr Spencer, who died in 1903, designed what he called a binding pin, which over time was modified into the paper clip.
City councillor Asaf Afzal said: "We are delighted to celebrate this internationally famous philosopher and writer, a man of so many talents that he even invented the precursor to the paper clip.
"Spencer is undoubtedly an inspiration to us now.
"He typifies the skills and knowledge that Derby is still internationally famous for."
Alan Grimadell, of Derby Civic Society which was also behind the scheme, said: "Herbert Spencer was a prolific writer who was offered honours and awards all over Europe and North America.
"He was also nominated for the Nobel Prize for Literature. By the 1870s he had become the most famous philosopher of the Victorian age.
"It's right that we should honour him in this way."
Derby City Council and Derby Civic Society said the scheme of erecting blue plaques across the city was to celebrate famous people who have strong links with Derby.