Shops on Green Lane, Derby, could benefit from £2m of investment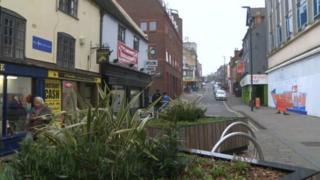 A bid to regenerate a historic part of Derby city centre has been launched.
Landlords on Green Lane and surrounding streets can apply for a share of up to £2m to restore fronts of buildings, some of which date back to the 17th Century.
Derby City Council has put forward nearly £300,000 for the scheme along with £700,000 of Heritage Lottery cash.
The authority said it hopes shop owners who take part will raise an extra £1m towards works on their businesses.
Owners of eligible buildings are offered up to 80% of the cost to restore them and improve their appearance. Landlords must meet at least 20% of the cost of the work.
The scheme will run for five years or until all the council and lottery funding has been handed out.
'Architecturally pleasing'
The area is home to the city's former Hippodrome, which opened 100 years ago, and the 19th Century Quicksilver building.
Anthony Hughes' business is close to the Hippodrome, which has stood empty for six years.
He said: "People coming along to look at empty units will see shops around, see that they are well-maintained and they've got more architecturally pleasing fronts - it's only going to improve things."
Previously, the council and English Heritage restored buildings on The Strand, The Wardwick and Irongate in the north of the city centre, using old photographs and records as a guide.
Councillor Asaf Afzal said: "This part of the city centre has struggled in recent years but its potential is huge."