Derby Hospitals Trust faces a £43m shortfall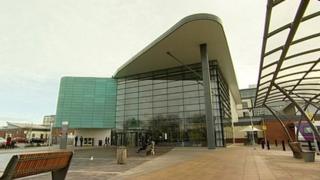 Derby Hospitals Trust has revealed it has a potential £43m shortfall in its budget for the current financial year.
The NHS trust, which runs three hospitals in the city, said it has identified a funding gap of £24m plus a further £19m of savings needed from its £450m budget.
Health bosses said they would apply to the Department of Health for an emergency bailout to cover costs.
They added most savings would be made by changes in the way they work.
'Redesign all our services'
Chief executive Sue James said the trust was currently overspending by £66,000 a day, after the £19m savings was taken into account, although these have not all been implemented.
Much of the increase in costs was blamed on a rise in the number of elderly patients and young children in the county, as well as more people visiting A&E.
But the trust also said Southern Derbyshire Clinical Commissioning Group (CCG) could no longer afford to pay the total cost of services the trust believes is needed.
Ms James said there will be no major job losses but the trust will cut back on the number of agency staff, initially hired to help meet targets.
She added that new ways of working were helping to cut costs, including a geriatrician in A&E who assesses elderly patients helping to reduce the number of admissions.
Since the project was started last autumn, more than 1,500 people have been through the system and half avoided a stay in hospital.
"We've delivered a better service, higher quality for the patients and at a lower cost," Ms James said.
"What we need to do is redesign all our services in the same sort of way."
Southern Derbyshire CCG is the largest commissioner of services from the hospital trust. Nobody was available for comment from the CCG.