Derby station may close during £1.6bn East Midlands work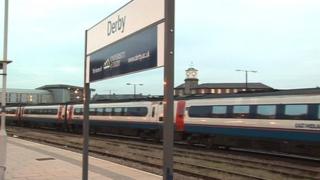 Derby railway station could be closed for a period of time during work to improve the line and build platforms.
Network Rail said part closures of up to six weeks were possible as part of a £1.6bn project in the East Midlands.
The work would be aimed at bringing more trains, better stations and electrification of the Midland Main Line across the region by 2019.
One business near Derby station said any closure could be "potentially devastating" for it.
The three main developments for the East Midlands would be:
Electrification of the Midland Main Line, reaching Nottingham and Derby by the end of 2019
Improvements at Derby to deal with a bottleneck, allowing more services to run and better journey times
More services to run on routes between Bedford, Kettering and Corby
'Area will suffer'
Phil Verster, route managing director for Network Rail, said passenger numbers in the East Midlands were expected to increase by 16% by 2019.
"Our investment plans are crucial to making sure we can meet that demand whilst maintaining a safe and reliable service and making the improvements in performance passengers rightly expect."
He added Derby station could be partly closed in the same way Nottingham station was last summer but not until 2016 or 2017 and people would be informed "well in advance of any disruption".
But Steve Robinson, manager of the Brunswick Inn pub, which is near Derby station, said: "The closure could be potentially devastating because of our proximity to the station, it will have a massive effect on us.
"I think the area will suffer as a result as if the station is closed, you're just not going to get the footfall."
The proposed work in Derby will see the removal of a bottleneck at the southern end of the station and the creation of two new platforms.