Daniel Gill death: Test confirms fake ecstasy PMA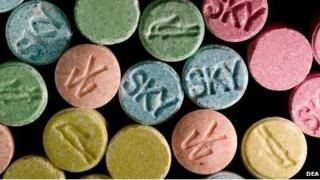 Tablets recovered during an investigation into the death of a 19-year-old man in Derbyshire were not genuine ecstasy, police have confirmed.
Daniel Gill died at his home in Chapel Street, in Leabrooks, in January, after taking what he believed to be ecstasy.
A 16-year-old boy and an 18-year-old woman were arrested, and later bailed, in connection with supplying drugs.
Tests confirmed the pills contained the stimulant PMA, which has been linked to several deaths in the UK.
Steve Holme, from Derbyshire Constabulary's drugs unit, said: "There have been six deaths in the last three years in Derbyshire where PMA was a factor, either on its own or in combination with other drugs.
"In at least two of the deaths the person had taken what they thought was amphetamine, and in the other cases they had taken tablets they believed were ecstasy.
"I am sure from looking at each case that these people did not know that they were taking PMA.
"There have also been other cases where people have been very ill but swift medical intervention has saved their lives."