Kadeem Blackwood murder: Retrial hears man 'ordered' death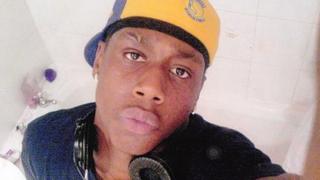 A man ordered the death of a rival gang member because he had been "mouthing off", a court has heard.
Michael Hamblett-Sewell is being retried for his alleged part in the killing of Kadeem Blackwood, 15.
Kadeem was shot in Caxton Park, Derby in November 2008 in what prosecutors described as a "feud" between gangs.
Callum Campbell, who was 20 at the time, admitted pulling the trigger and was given a life sentence in 2009. Mr Hamblett-Sewell denies murder.
The jury at Nottingham Crown Court heard although Campbell had pleaded guilty to the shooting, Mr Hamblett-Sewell had allegedly been behind it.
'Joint responsibility'
Prosecuting, Peter Joyce said the defendant, of Marlborough Road, Derby, should bear joint responsibility for the teenager's death.
Mr Joyce said Kadeem had become involved in the Younger Browning Circle Terrorists (YBCTs) gang and was known as Snipez.
He said Mr Hamblett-Sewell, 26, was a senior member of rival gang, the A1 Crew, and was known as MP.
The court heard Kadeem had received several phone calls days before his death and was overheard by his mother having conversations about a fight and a "strap" (gun).
The two gangs had arranged to meet at a park where Kadeem was challenged to a "one on one" fight, because he had been "mouthing off" about members of the A1 crew.
Mr Joyce said Campbell had produced a gun and fired the fatal shot on instruction from Mr Hamblett-Sewell.
They then fled the scene.
Kadeem received nine gunshot wounds to the chest and abdomen and was taken to Derby Royal Infirmary where he was pronounced dead.
In a police interview, Mr Hamblett-Sewell claimed he had gone to the park because they "had a problem" and a friend was "going to fight" one of the other members.
He claimed no-one had a weapon but said someone was standing with a gun when they arrived. He refused to say who the gunman had been.
He denied knowing of any gangs in Derby or being a member of one.
The trial continues.