Buffalo Bill claim over Derby allotment revolver-find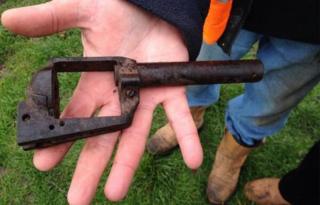 A revolver dug up at a Derby allotment could have been used by famous cowboy Buffalo Bill, its finders have said.
Volunteers found the remains of the Colt 45 revolver in Wilmorton, where they are building a community garden.
These classic cowboy weapons of choice were used at Buffalo Bill's Wild West shows at the turn of the last century.
Derby Museum's head backed the suggestion saying one such show was held in 1903, close to where the gun was found.
'Amazing shows'
The garden builders - from the Prince's Trust - contacted US firm Colt, which confirmed the gun was one of its weapons and estimated it dated between 1894 and 1918.
Cowboy-turned-showman William F. Cody brought his Wild West show - featuring real cowboys and Indians, trick shooters, stagecoaches and even herds of buffaloes - to England in 1903.
The Derby leg was at a former Victorian showground at the end of Oscat Drive, close to where the gun was found.
Head of Derby Museum Jonathan Wallis said it was a "possibility" the gun was used at the show.
They were not very common weapons in this country as UK manufacturers made their own versions, he said.
However, it might also have been brought over during World War One, when American troops were based in Derby, Mr Wallis suggested.
"The shows must have been pretty amazing things to see - they used live ammunition, they would have been really good fun," he said.
"A little bit of the Wild West brought to Derby."
Quick draw
Simon Lee, from the team of volunteers, said its wooden handle was no longer attached and just the barrel and stock remained.
The sight had also been removed, which was something sharpshooters did so they could "quick draw", he said.
He handed the gun to the police after it was found, who said it was not dangerous.
"The police said it's absolutely nothing to worry about unless you're going to hit someone with it," he said. "It's absolutely useless as a weapon - it can't be refurbished, reused, anything."
Jane Carlier, from the Prince's Trust, said Derby Library has a poster from Buffalo Bill's Derby show, which she hopes will be housed in a school that will use the new community garden.