Plans scrapped for Sanctuary nature reserve cycle track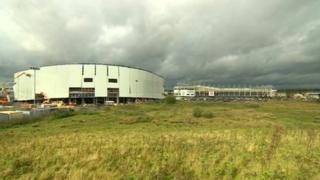 Plans for a cycle track on a nature reserve have been scrapped following legal action brought because of concerns about wildlife.
Derbyshire Wildlife Trust took legal action after Derby City Council approved the track, to be built on part of The Sanctuary nature reserve.
An interim order was issued, meaning work had to stop until a judicial review was carried out.
The council now says it is not in taxpayers' interests to continue.
Councillor Martin Repton, cabinet member for leisure and culture, said: "I am very unhappy with this course of events, as our vision of becoming a regional centre of excellence for cycling is now under serious threat."
The track would have been linked to the city council's new £28m velodrome.
The council said it would now review an agreement it has with Derbyshire Wildlife Trust, under which the trust provides advice on matters related to the natural environment.
It says "appropriate legal action will be taken" if the trust's compliance with the agreement is found to be in breach.
Tim Birch, conservation manager for the trust, said: "We were never opposed, and we never have been opposed to cycling; I cycle a lot.
"It was simply the wrong place to put a cycle track. We did not support putting a cycle track on a local nature reserve."
The council said it had revoked planning permission as "the window for development has now passed".