Derby Tories ask for voting fraud probe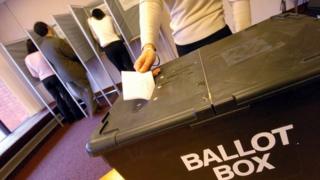 The Conservative party in Derby has asked the police to probe allegations of electoral fraud in the city.
The request comes after a Normanton man told a BBC investigation his mother's postal voting form was filled in for her by campaigners at her home.
The party has now written to Derbyshire Chief Constable Mick Creedon. The force has confirmed it received it.
In 2013, four women were convicted of offences related to fraudulent voting in the city's Arboretum ward.
Councillor Matthew Holmes, Conservative deputy leader in Derby, which has a Labour-run local authority, said he has asked police to "investigate the allegations … and make efforts to identify those persons involved".
'Illegal activity'
The Normanton man, who asked to remain anonymous, told BBC Radio 4's File on 4: "Campaigners came to the house and they asked my mum to vote for them and actually my mum, not being able to read English, she didn't know where to put the cross, so one of the people put the cross in the box for her and said, 'There you go now you can just sign it and we will take it off you.'
"Your votes are supposed to be anonymous but when people come to your house and are literally doing it for you that is not you voting is it? That is them voting for you and voting for themselves."
Mr Holmes said: "This allegation of illegal activity is greatly concerning with both European Union and local election on May 22nd this year and further calls into question the legitimacy of elections in Derby City."
Labour councillor Dave Roberts said: "Derby has been working very hard to make sure that the electoral services it provides are first class and we believe our electoral services officers are some of the best in the country."
Derbyshire Police said it could not comment on the contents of the letter at this stage.
The full BBC report will be broadcast on File on 4 on BBC Radio 4 on Tuesday, 11 March, at 20:00 GMT.