Luke Barker jailed over Stanton-by-Dale eight-week fire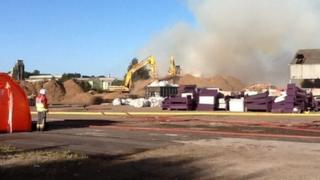 The director of a Derbyshire recycling company where a fire burned for eight weeks, has been jailed for 10 months.
Luke Barker, of Arcwood Recycling in Stanton-by-Dale, admitted four safety failures which put people at risk of death or serious injury.
About 8,000 tonnes of material caught fire in September 2012 and hundreds of fish in the Erewash Canal later died after water oxygen levels dropped.
Barker was also banned from being a company director at Derby Crown Court.
After the fire, the Environment Agency had to reintroduce oxygen in the Erewash Canal to prevent more fish dying due to the contaminated water.
In order to put out the blaze, firefighters had to smother the deep-seated fire after burying wood pulp in specially prepared pits on nearby land.
Residents living near the scene were advised to keep their doors and windows closed while the fire burned.