Swadlincote's Sandvik workers 'not consulted properly'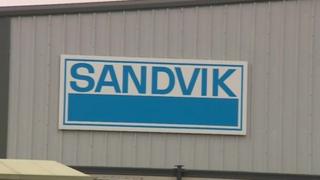 Workers at an engineering firm in Derbyshire have said they were not properly consulted about a decision to move the plant.
About 360 jobs will be lost from Sandvik's plant in Swadlincote as the Swedish firm reorganises its UK operations.
The Unite union representative Kevin Seal said if staff had been told sooner, jobs could have been saved.
The firm said it would be helping staff find other employment in the region.
Sandvik, which makes machinery for the mining and construction industries, plans to "wind down" its production facilities in Swadlincote.
Output will be transferred to Ballygawley, County Tyrone, Northern Ireland, by early next year.
Mr Seal, who has worked at the plant for 10 years, said: "We were absolutely gobsmacked, we thought it was an update meeting.
"If we'd have known about this months ago we could have perhaps asked people if they were prepared to go on a four-day week or get rid of some agency [staff]."
He added that the first redundancies would take effect in May, with more following in December and January.
Sandvik's managing director Terry Allison said it was unfair to suggest the company had not been open and transparent.
He said: "We have communicated on the position of the company prior... but we're in a process now of consultation with the union representation."
Mr Allison said previously that running two factories, in Swadlincote and Ballygawley, at 50% capacity, was "neither efficient nor sustainable".
Of the 360 jobs lost in Derbyshire, 160 will be transferred to County Tyrone.