Community in mourning for Derby man Nadish Kunwar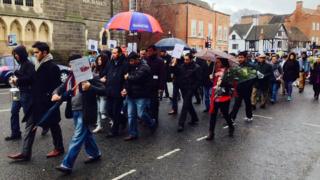 A Derby community came out in mourning to trace the final steps of a city man after a body was found in the river.
Nadish Kunwar, 20, originally from Nepal, disappeared in January prompting an extensive search.
On Sunday, about 100 people, including friends and many from the Nepalese community, walked his last known route, starting from the Seven Stars pub.
It ended at Pride Park near where a body, believed to be Mr Kunwar, was found last week.
Ishwar Khadka, speaking on behalf of the family, said there was a large Nepalese community in Derby and nearby cities and many wanted to show their support.
"It is exactly a month since he went missing. We can remember Nadish, people will leave flowers where his body was found and light candles and share sympathy towards the family," he added.
Mr Kunwar was last seen on 31 January after a night out in the city.
A huge operation to find him was mounted and last week friends came out in support, leafleting shoppers in the city.
But specialist divers found a body in the river under a railway bridge near Pride Parkway and police believe it is the 20-year-old.
His parents, Oshan and Deepak, said they moved to the UK to provide their son with a good future.