Mass for paedophile priest's victims in East Midlands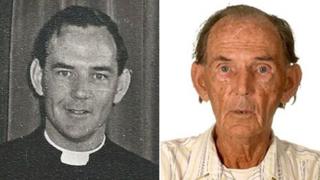 A special service has been held to help Catholics come to terms with decades of child abuse carried out by a priest.
Francis Paul Cullen admitted abusing children in Derbyshire and Nottinghamshire over a 30 year period.
The Bishop of Nottingham took Mass at Christ the King in Mackworth, Derbyshire, the parish where Cullen first abused children in the 1950s.
He was extradited from Tenerife and admitted 21 counts of indecent assault. He will be sentenced on 24 March.
Cullen, born in Dublin, worked in Scunthorpe, Leicester, Nottingham and Alfreton, Buxton and Mackworth, Derbyshire.
He was arrested in 1991 but skipped bail and fled to Tenerife where he lived for more than 20 years.
Last year he was extradited from the Spanish island and, last week, he admitted 21 counts of indecent assault on seven children aged six to 16 between 1957 and 1991.
Derbyshire Police said it was "inconceivable" that there were no more victims and urged others to come forward.
Father Andrew Cole, spokesman for the Catholic Diocese of Nottingham, said: "What they will be feeling, I imagine, is a great deal of hurt, a great deal of relief that he has pleaded guilty and a great deal of anger."
The Bishop of Nottingham, Right Rev Malcolm McMahon, joined the regular parishioners in taking Mass at 17:30 GMT on Saturday.