Award-winning junior soldier to be discharged over eye disease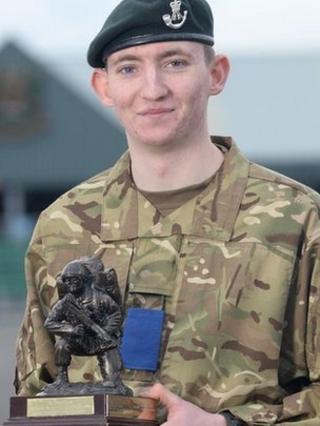 A junior soldier's promising career has been cut short after he was diagnosed with a degenerative eye condition.
Joshua Byard, 18, from Derbyshire won the Most Improved Junior Soldier award when he graduated from the Army Foundation College in Harrogate, North Yorkshire.
But, a month before his passing out parade, he was diagnosed with Stargardt disease and must now be discharged.
A routine eye test at his home in Ilkeston identified the symptoms.
'Medically discharged'
Joshua was awarded the Gilbert Statuette - named in memory of a soldier who was killed in Afghanistan and given to the most improved soldier at the college each year.
He had spent a year at Harrogate and was due to move to phase two of his training at Catterick, North Yorkshire.
"I was gutted because as soon as I found out that my eyes were bad it was always in the back of my mind that I was going to have to leave the Army," he said.
"I was hoping to move to Catterick with all my friends but now I have to go back up to Harrogate to be medically discharged.
"All I can ever remember wanting to do was be in the Army. I wouldn't want to do any other job."
'Heartbreaking'
Joshua started as a cadet when he was 12 years old and joined the Army at 16.
His mum, Claire Hawkins, 38, said: "It's devastating for us and for him. It's the end of his career but he tries to put a brave face on it.
"It's just heartbreaking because there are so many kids at 16 or 17 who don't do anything with their lives and we've got someone like him who's really trying."
After struggling to see the board during lessons at college, Joshua visited his opticians thinking he might need to wear glasses.
But the optician picked up a problem with his retina and sent him off for tests.
Joshua was diagnosed with the Stargardt macular dystrophy last month, just weeks before his passing out parade.
He is set to visit an expert in gene therapy at Oxford University.