Body found in search for missing Nadish Kunwar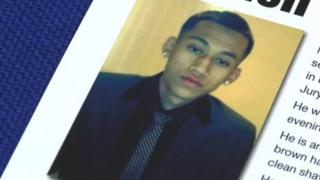 A body has been discovered in the River Derwent in Derby during the search for a missing man.
Nadish Kunwar, 20, originally from Nepal, was last seen on 31 January at the Jury's Inn hotel in the city after a night out with friends.
Water search specialists found the body under a railway bridge near Pride Parkway at 17:00 GMT on Saturday.
No formal identification has been made but police believe it to be Mr Kunwar. His parents have been informed.
'So hard'
On Saturday, friends of Mr Kunwar handed out leaflets in Derby in a bid to find him.
His family, originally from Nepal, moved to the UK in 2007.
Mr Kunwar's mother Oshan had previously said that she and her husband Deepak had moved to England to give their son the chance of a better life.
She said: "We came here so he could have everything, a good education, a good future. But now he's missing and it's so hard."
His father Deepak Kunwar said he had moved his bed near to his front door in case his son came back in the night.
Officers thanked everyone who had been involved in the search for the Derby student during the past three weeks.