Court order stops Derby cycle track work at The Sanctuary nature reserve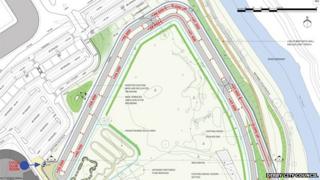 Work to build a cycle track at a Derby nature reserve has been stopped following an interim court order issued by the High Court.
Derbyshire Wildlife Trust took legal action after Derby City Council approved the track, to be built on part of The Sanctuary nature reserve.
The trust said the development would damage the habitat of rare birds.
In a statement the authority said it would respond to the court's decision but would make no further comment.
Threatened birds
The council had said the new facility, linked to the new £28m velodrome, would only take up a "slice of the land".
However, Derbyshire Wildlife Trust took the action because it said the new track would result in a decline in wildlife.
There will be a full hearing at the High Court on Monday.
The Sanctuary, which lies close to the Pride Park football stadium, was given the go-ahead by the council in 2003.
Threatened bird species including skylarks and lapwings are visitors to the site, according to conservation managers.