Legal case against Derby nature reserve cycle track plans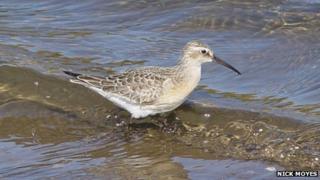 Campaigners are launching a legal case against plans to build a cycle track at a Derby nature reserve.
Derby City Council approved the track to be built on part of The Sanctuary nature reserve at Pride Park last week.
Ecologists from Derbyshire Wildlife Trust, said the development would damage the habitat of rare birds resulting to a decline in wildlife.
The council said the new facility, linked to the new £28m velodrome, would only take up a "slice of the land".
Judicial review
The wildlife trust is seeking judicial review of the planning committee's decision to allow the circuit to be built.
Conservation manager Tim Birch said: "This is such an important issue both locally and nationally that we felt we had to explore all options to protect The Sanctuary.
"Destruction of the wildlife habitat on this nature reserve sets a dangerous precedent that makes others in Derbyshire and around the country vulnerable to development."
Sara Boulton, chair of Derby City Council's planning committee, said: "In actual fact it's only a slice of the land, it's 18% of the total area of The Sanctuary that will be made up of this close-circuit cycle track.
"We listened to Derbyshire Wildlife Trust and a [council] environmental officer, and it wasn't an easy decision."
The authority said the track would be used for racing and teach children to cycle.
Peter Turner, from Derby Mercury Cycling Club, who is also a member of the wildlife trust, said: "Cycling is quiet, we're not noisy and I don't see that as being such a big issue for the birds as made out."