George and Robert Stephenson railway bridges listed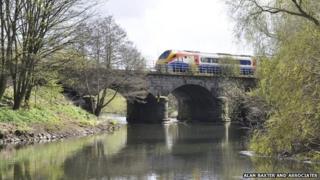 Thirty railway bridges, viaducts and tunnel portals have been listed to help preserve them ahead of electrification of the Midland Main Line.
Many of the structures were designed by George Stephenson and his son Robert, both pioneering railway engineers.
The listed status means Network Rail would need to get consent to alter the structures, which are in Derbyshire and Nottinghamshire.
English Heritage said many were "masterworks of engineering".
Tony Calladine, head of designation at English Heritage, said: "The new listings are a celebration of the amazing legacy left to us by England's Victorian engineers.
"Their railway bridges are such a part of our landscape that we often don't notice them, but many of these bridges are masterworks of engineering and design, and pushed the boundaries of technology when they were first built."
He added that the aesthetic quality of the bridges often "far exceeds the functional requirements".
Derwent Viaduct, in Derbyshire, has been listed at Grade II*, meaning it is particularly important.
English Heritage said it was the "cutting edge of railway engineering and innovation" when it was built to the designs of the Stephensons in 1836-40.
The other structures have been listed at Grade II.
Network Rail said electrifying the Midland Main Line, which runs from London to Sheffield via the East Midlands, would allow for more reliable and faster trains.
The structures were listed by the Department of Culture, Media and Sport following a joint project between English Heritage and Network Rail.
Culture minister Ed Vaizey said: "The listing of these structures highlights the unique heritage of our railways, which when originally built were world-renowned for their engineering and ingenuity.
"These listings along the Midland Main Line will help ensure they are cared for in the future."