Derbyshire Police Federation criticises "money saving" merger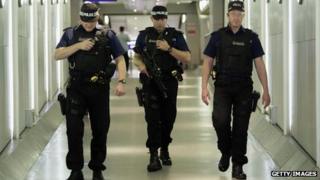 Joining an East Midlands merger of specialist police teams would be "money saving at the expense of Derbyshire people", the county's police federation has claimed.
Derbyshire is the region's only force to opt out of the scheme.
Federation chairman Mark Pickard said he was "not convinced" it would improve policing.
A senior officer said the plan will "significantly" increase the number of officers available to each force.
From 31 March, Leicestershire, Lincolnshire, Northamptonshire and Nottinghamshire forces will jointly provide services like dog units, road policing, search teams and armed response units.
'Yet to be convinced'
Mr Pickard said Derbyshire Police had decided "to put the foot on the ball" and question the move.
"Derbyshire people will not maintain the service that we now provide," he said.
"What would Derbyshire people think if we went in for possible money saving at the expense of our people?
"I am yet to be convinced that collaboration improves services."
The Nottinghamshire branch of the federation, which represents officers, has concerns the move would spread officers "too thinly" across the region.
The move is set to reduce the number of senior officers but no job losses are to be made.
Derbyshire police said it was already involved in other "major collaborations" across the East Midlands.
"We consider any collaboration carefully in terms of how it will affect the service we provide to the public and the potential savings it contributes," a spokesman said.
"We have decided that we do not wish to pursue this collaboration but will monitor its progress and help wherever possible.
"We retain the option to join the consortium in the future."