Mark Booth sentenced for strangling pet cat in Ripley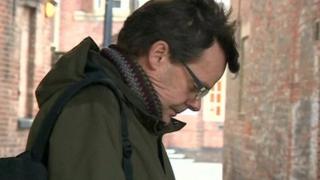 A man who strangled his family's pet cat and dumped its body in a bin has been given a suspended sentence.
Mark Booth, 53, of Lowes Hill, Ripley, Derbyshire admitted causing unnecessary suffering to an animal.
Derby magistrates heard he killed four-year-old Tabby Oli after an argument with his wife about its behaviour.
He was given a 14-week prison sentence suspended for 12 months, 200 hours of unpaid work and ordered to pay £2,458 in court costs.
The RSPCA described the crime as "horrific" and magistrates banned Booth from keeping any animal for life.
He can appeal to have the ban lifted after five years.
'Unnecessary suffering'
The court heard Booth had returned home from the pub on 9 August 2013 and told his wife the animal was "a nuisance, it's got to go. I'm going to kill it and I'm going to do it now."
Magistrates were told he took the cat outside and minutes later his wife heard the bin lid close. He came back in with blood and scratch marks on his arms and said: "That cat won't bother you anymore. I've killed it. I've strangled it."
His wife reported him to the police and the RSPCA who recovered the cat's body.
A specialist post-mortem exanimation found the cat had fought in its last moments and its death would not have been instant.
Booth, who admitted having had two pints of beer but was not drunk, said he regretted his actions.
Magistrates told Booth that this was "a most unpleasant and cruel offence that must have caused a great deal of unnecessary suffering".
Speaking after the hearing, Simon Parks from the RSPCA said: "After 24 years service with the RSPCA I thought I'd seen everything but when I read this file I was horrified and shocked that anyone who owned a cat could literally strangle it to death and throw it in a wheelie bin.
"It's horrific."