Denby Pottery up for sale in Derbyshire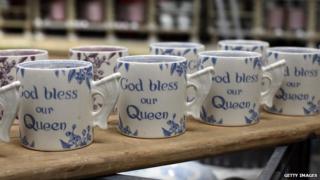 An increase in exports has led to a renowned pottery firm being put up for sale just five years after it was saved from collapse.
Derbyshire-based Denby Group is being sold by Hilco Capital after several companies offered to buy the firm despite it not being on the market.
The crockery firm owns the Denby, Burleigh, Poole and Hartley Greens brands.
It was saved in a buy out in 2009 after cutting dozens of staff.
Record growth
Paul McGowan, chief executive of Hilco Capital said: "Following a strong performance in 2013, particularly in key export markets, we have received a number of unsolicited approaches from trade buyers seeking to purchase the business.
"As a result of this interest, we have thought it appropriate to appoint advisors to run a formal sale process."
In the sale announcement, the venture capitalist company said sales of the Denby brand increased by 10% on 2012 to £44m.
It said a focus on exports saw record growth in North America and Asia.
A dispute between the Unity union and Denby saw a series of strikes last year which was settled by a vote in September.
The firm said tough trading conditions led to the pay freeze.