Peak District authority defends Roych and Chapel Gate bans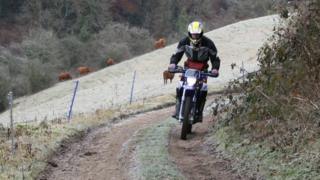 The Peak District National Park Authority has defended its decision to permanently ban vehicles on two green lanes.
Chapel Gate and Roych are both now subject to full traffic orders after limited controls associated with repair work came to an end.
The park authority said the restrictions were needed to protect the wildlife and character of the trails.
Pro-vehicle groups claim "a vocal minority" had influenced the decision.
The ban is part of a long-running battle between the authority and vehicle users over the routes, known as green lanes.
In 2012, The Peak authority had to reopen Chapel Gate, after a High Court ruling overturned a temporary order.
Last year, a public consultation to ban vehicles from the route, which skirts Rushup Edge, received almost 1,400 objections, with about 1,000 in favour.
The ban was backed by a group called Friends of the Peak District, which launched its Take Back the Tracks campaign three years ago. Initially it focused its efforts on protecting the "most environmentally sensitive routes".
But after what it described as "escalating damage on an increasing number of routes", it now campaigns for all off-roading by motorised vehicles to be made illegal in the park.
However, Christopher Pennell, from the park authority, said: "There are some 300 green lanes usable by motorised vehicles in the national park and we are concentrating on just a very few where the impact is causing special concern."
He added: "It is our duty to conserve and enhance the natural beauty, wildlife and cultural heritage of the area, and that outweighs other considerations where there is a substantial conflict."
Richard Simpson, from Trail Riders Fellowship, said: "The park authority is spending a lot of money to exclude people who bring in important revenue."
He added the agenda was being unfairly led by those seeking to drive vehicle groups away from the park.
An action plan to manage 36 "priority routes" where vehicular activity causes most concern has now been put in place.