Al-Madinah free school's new chairman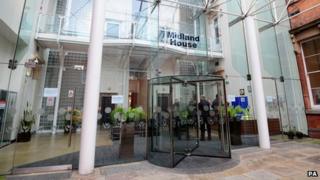 The head of one of the largest education trusts in the East Midlands has taken over as chairman of the troubled Al-Madinah school in Derby.
The free school, run on a Muslim ethos, was heavily criticised in an Ofsted inspection and on Thursday the trustees were officially replaced.
Barry Day of the Greenwood Dale Foundation Trust (GDFT) is now chairman of the Al-Madinah Trust.
The GDFT will continue to work with the school but has not taken it over.
The governors at the school agreed in October to step down following a stinging letter from Education Minister Lord Nash.
'Welcome change'
He asked the GDFT to step in and advise the school, but it has yet to decide if it will take Al-Madinah on as one of its sponsored academies.
"The Al-Madinah Trust has established a new board chaired by Barry Day, who is also chief executive of the Greenwood Dale Foundation Trust," a spokeswoman for the Department for Education said.
"GDFT will continue to provide support to the school and the new trust. We welcome this change and urge the new board to start to bring about the changes required at the school."
Mr Day, who was unavailable for comment, is taking on his role at Al-Madinah in his personal capacity as an education expert.
The GDFT currently runs 23 schools, mostly in the East Midlands and East of England.
Al-Madinah: The story so far
September 2012: Al-Madinah school opens
August 2013: The Education Funding Agency confirms it is investigating alleged financial irregularities at the school
September: The school faces allegations it is imposing strict Islamic practices
October 7: The school reopens almost a week after it was closed during an Ofsted inspection over "health and safety concerns"
October 8: Education Minister Lord Nash lays out 17 concerns about the school and says it will close unless "unacceptable" teaching standards improve
Oct 14: The school amends its policy to make clear women do not have to wear head scarves
October 17: The school is described by Ofsted inspectors as "dysfunctional"
October 25: Muslim community leaders in Derby call for the school governors to resign
November 22: Lord Nash announces a new education trust will be brought in
December 12: Ofsted reports 'no signs of improvement' following a monitoring inspection