Derby's velodrome 'needs more seats'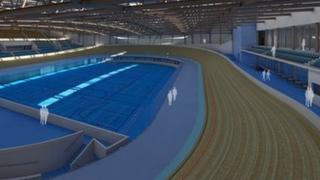 Derby's 5,000-seat velodrome needs a larger capacity to attract major events, some city councillors say.
Conservative councillor Matthew Holmes said the capacity of the multi-use venue, due to open in November, should be increased to 7,500 to attract performers like Robbie Williams.
"We should maybe be pushing it to see if we can increase the seating capacity a little bit," he said.
Labour councillor Martin Repton said it was too late to change the capacity.
The velodrome, which can be used for racing, concerts and other events, is already under construction.
Fire exits
Labour councillor John Whitby said: "I would prefer it if we could have a bit more capacity... perhaps another 1,000 seats [for some events]. I would have liked a bit more than we have got."
Mr Holmes said some changes to the type of seating would allow the council to increase the capacity.
But Mr Repton said: "It will attract all the groups we intended to... it will be an exciting arena and it has always been the size that it is planned to be… and we believe it is one that will work."
He said the width of the corridors, the number of toilets and fire exits were all designed for a venue of 5,000 capacity.
He added the new Brighton Conference Centre had a 4,500-seat capacity and was "highly successful".
The £28m velodrome project, funded by Sport England and the Labour-controlled Derby City Council, will include a gym and a 12-court sports hall as well as a 250m cycling track.