Rachael Slack: Deaths 'could have been prevented'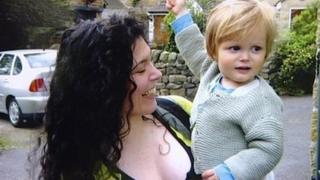 The partner of a woman murdered with her young son insists the deaths could have been prevented, contradicting a serious case review's findings.
Andrew Cairns stabbed his pregnant ex-partner Rachael Slack and their 23-month-old son Auden in 2010 at their Derbyshire home before killing himself.
The review found authorities could not have predicted that he would kill them.
But Ms Slack's partner Robert Barlow and charity Refuge attacked the report, saying more could have been done.
Sandra Horley, chief executive of the national domestic violence charity, said the findings of the review "contradicted" the outcome of last year's inquest, which found police failure to impress on Ms Slack the danger she and Auden faced "more than minimally contributed" to their deaths.
"The coroner at the inquest found that, despite making an assessment that Rachael and Auden were both at high risk of homicide, Derbyshire Police failed to discuss with Rachael adequate steps that could have been taken to address the risks to Auden," Ms Horley said.
"The police also failed to inform Rachael that they had assessed her and Auden as being at high risk of homicide.
"As a result, Rachael was denied the opportunity to make an informed choice about her and Auden's safety."
Cairns, 44, made threats to kill her hours after being detained by police under the Mental Health Act.
Ms Slack, who lived in Holbrook, had driven him to the police station because he refused to get out of her car and she was worried about his behaviour.
He was assessed by mental health workers and released after he was found to have no major mental illness.
Ms Slack's partner at the time, Mr Barlow, said if information about Mr Cairns had been better shared between professionals, the deaths could have been prevented.
He said: "There were too many mistakes made throughout Andrew's care and too many mistakes made with Rachael's safety back at home after he was arrested.
"Agencies and individuals didn't have, or didn't share information - it meant they couldn't make whole judgements on decisions," he said.
"Their safety relied on those decisions being made properly."
He added he hoped action would now be taken following the review and officials were not "just paying lip service".
The report by the Derby Safeguarding Children Board (DSCB) found Cairns had become increasingly depressed in the months leading up to the deaths.
It said his behaviour had become more worrying for Ms Slack, who continued to check on him even after their relationship broke down in late 2008.
It also examined Mr Cairns's involvement with mental health workers and his history of depression, which dated back to 1999, when he had attempted to kill himself.
On 27 May he was arrested after making the threats to kill Ms Slack but released on police bail after denying the accusations.
'Lip service'
The report said: "The question is therefore whether the mother's report, in the context of other information available to professionals, provided a basis on which the eventual outcome could have been reasonably predicted.
"There are a number of factors which suggest that this would not be the case."
It said officers had no contact with Ms Slack or Mr Cairns about his mental health issues. They were also not told of his behaviour after his release from custody or that he had been hanging around outside Ms Slack's home after his release.
"Other agencies and professionals had, at most, partial information regarding these events," the report said.
"Furthermore, research shows 'only an extremely small number' of individuals who share the characteristics of depressive mental illness and involvement with mental health professionals go on to commit such acts."
The review said Derbyshire Constabulary received about 150 to 160 reports of threats to kill each year and its analysis identified this case as the "only one of those reports over at least a three-year period which has been followed by enactment of the threat".
The DSCB has made a number of recommendations, which include better sharing of information and monitoring of informal carers who provide support to people with mental health problems, particularly where children are involved.