Bakewell market noise barrier plan 'devastating' - campaigners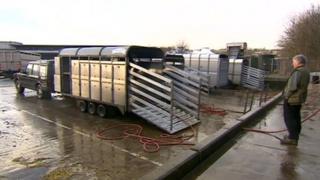 People in Bakewell, Derbyshire, fear their views of the Peak District will be spoiled if plans to build a "devastating" noise barrier go ahead.
In 2012 Derbyshire Dales District Council was given permission for the 5.5m (18ft) high and 97m (318ft) long barrier at the livestock market.
The council said noise assessments showed it was needed to screen noise from people living nearby.
A meeting was held this month in a bid to reach a compromise with residents.
Diane Gilmore, who lives on Coombs Road next to the market, also known as Bakewell Agricultural Business Centre, said: "The proposal for the barrier is a solution to a problem that doesn't exist.
"Noise outside and inside isn't a problem for us at all, but the visual impact will be devastating."
Paul Morgans, the town's mayor, said the barrier "doesn't sit right" in the area.
"There's absolutely no need for it," he said.
Derbyshire Dales District Council said discussions about the barrier - which residents believe could cost the authority £100,000 - will take place again at a meeting next month,
A spokesman said: "Two weeks ago the district council hosted a public meeting with interested local people to get their views on a revised barrier plan before any formal report is submitted for consideration by our councillors probably at the end of February."