Repton Cross: Future in doubt after repair dispute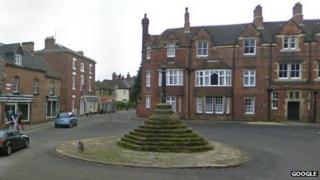 The future of a 1,500-year-old cross in a Derbyshire village is in doubt after a dispute over who should fund repairs.
Repton Cross, which has been damaged by heavy traffic over the years, requires about £30,000 worth of renovation work.
Martyn Ford, who represents Repton on Derbyshire County Council, said he was "very disappointed" an agreement could not be found.
But a spokesman for the county council said it was not in a position to fund the work.
'Already costing money'
Mr Ford said: "For some reason the county council thought the parish council was going to provide funding toward this, and that was never the case."
"They've now decided to delay until the financial situation improves.
"It is already costing the county council money having to keep coming and repairing it when stones get knocked off."
Derbyshire County Council said it was sorry for any misunderstanding surrounding funding for the cross.
It said it had carried out design work for the renovation at no cost but was unable to find the £30,000 needed.