Derby fire deaths: Philpott killings 'not predictable'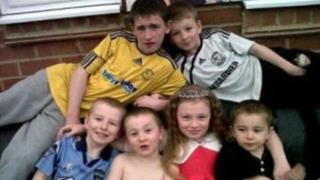 The deaths of six children in a Derby house fire "could not have been predicted or prevented", a serious case review has concluded.
Social services, police and health workers were given no reason for concern beforehand, the report said.
The children, aged between five and 13, died as a result of the fire at their home in Victory Road in May 2012.
Parents Mick and Mairead Philpott, and their friend Paul Mosley, were jailed for manslaughter last April.
The Derby Safeguarding Children Board (DSCB) said the review was to "examine closely" agency work and practices.
'Sad truth'
The report said it had been well known for years there were overcrowding issues in the home and that living arrangements were "unorthodox".
It also stated no members of the family, community, teachers or agencies had raised concerns about the children.
Glenys Johnston, the report's author, said: "Despite the horrific deaths of these children there are few areas for learning for professionals.
"The sad truth is that no-one could have predicted or prevented the events that took place on 11 May 2012."
The report added: "Given the notoriety of the father, the incidents of domestic abuse and visibility of the children, there were some opportunities to get to know the family better.
"However this would not have led to professionals becoming aware that there were plans to deliberately set fire to the house when the children were sleeping."
The report also said an earlier assessment in 2006 concerning domestic violence against Mairead Philpott was "explained away as insignificant by the family" and treated as minor.
"Several agencies did not know of his violent past; had they, they may have considered their assessment of him differently at the time of their involvement," the report said.
'Unusual family'
The report made 10 recommendations for improving practice and procedures among the police, local authority and health services, many of which the DSCB said were already in place.
It outlined that a system had been put in place to ensure children in large families were linked when referrals were received and clearer guidelines had been introduced for police officers investigating domestic violence to ensure children's details were recorded.
DSCB chairwoman Christine Cassell said: "This was an unusual family and the adult relationships were unusual, but they were never illegal.
"The evidence found that the children were happy, well-nourished, attended school and they had good social relationships between themselves and with other children."
Mairead Philpott's sister Jennifer Lobban said: "I do think in some cases they could have been more involved with the family.
"I think they were just kind of left to carry on with their own devices."
She added: "As bad as [Mick Philpott] was, no-one would ever have known that he was going to do something like that."
A spokesperson for Derby City Council said the authority "acknowledges the findings".
Jade Philpott, 10, John, nine, Jack, eight, Jesse, six, and Jayden, five, died in the fire. Duwayne Philpott, aged 13, died later in hospital.
Derbyshire Fire and Rescue said the sound of smoke alarms in the house at the time, failed to wake the children.
Watch manager Dave Coss carried out research into children and alarms and concluded many do sleep through the noise.