Elvaston Castle future outlined in 10-year vision plan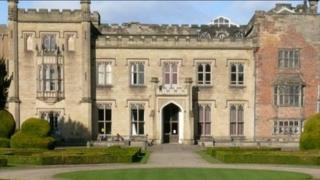 Derbyshire County Council has outlined a 10-year plan to save a Grade II-listed property in need of an estimated £6m worth of repairs.
Elvaston Castle was turned into a country park in 1969 and currently costs the authority £800,000 a year to maintain.
Under proposals the estate will be passed to a community group, which will be responsible for finances.
The authority said it will retain ownership of the 17th Century estate.
It had previously announced plans to sell the building and 130 hectare (320 acre) estate but this was abandoned following protests from the friends group.
The castle has only one room which is open to the public and has been on English Heritage's buildings-at-risk register for several years.
The plan aims to bring buildings back into use, maximise the appeal of its history and extend the range of activities held in the grounds.
Currently, the park is used by walkers, cyclists, bird watchers, and has its own nature reserve. Last summer, Elvaston was awarded a Green Flag for its outdoor space.
Councillor Brian Ridgway said: "The vision aims to secure the many benefits of the Elvaston estate for public access and recreation, heritage and conservation."
He added: "The vision also aims to put the estate on a sound financial footing with a business model that creates income that is reinvested in the stewardship of the estate without eroding its special qualities and significance.
"We've worked hard over the past few months to try and gather as much opinion from all those who use the estate and hope that people will now take the time to let us have their opinions on the draft vision and plan."
People can read the plan and give their views online.