Derbyshire County Council tax rise to plug budget hole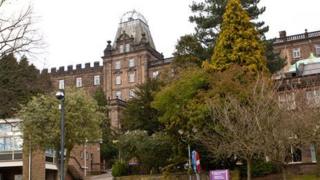 Derbyshire County Council has proposed a 1.99% rise in council tax to help combat a budget shortfall of £157m over the next four years.
The Labour-led authority has also said children's centres, libraries, street lighting, roads and adult care will face a reduction in funding.
Council leader Anne Western said she was reluctant to increase council tax but had been left with no choice.
A full council meeting is expected to approve the proposals next week.
Mrs Western said: "We do have few options now, all the easy options have gone.
"What is so frustrating is if we'd have been in power over the previous four years we could have anticipated the scale of these cuts and started to shape services differently."
Mrs Western claimed the previous Conservative administration had used council reserves to plug gaps in the budget.
Conservative councillor Mike Longden said: "The cuts started to bite half way through our administration four years ago. We'd saved £80m and planned to make further savings.
"In relation to reserves, she [Anne Western] is wrong; we actually increased the reserves while in office."
The authority announced at a meeting on Tuesday that, from April, seven children's centres could close, about £2m would come out of the budget for repairing potholes, opening hours for libraries could be shortened and lamps in street lights would not be replaced once they had gone out.
About £400,000 is also set to come out of the trading standards budget.
The council said its reserves were likely to fall from £103m to £33m over the next five years.
However, despite financial pressures, the authority said it would still introduce the living wage, which will see 3,000 staff being paid at least £7.65 an hour from April.