Derby Christmas lights may be left up to save money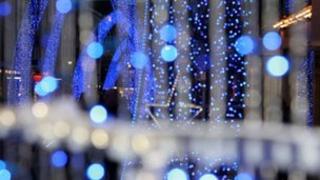 Derby's Christmas lights could be left up after the December 2014 celebrations to save the city council money.
The authority said it could save £114,000 a year if a sponsor can be found to put the lights up and then take them down.
Paul Bayliss, leader of Derby City Council, said it was considering not taking the lights down in January 2015 if a sponsor could not be found.
The other option would be scrapping the light display altogether, he said.
The city council needs to save £81m over the next three years.
Mr Bayliss said: "One of the suggestions that has been made is that you put the lights up and never take them down.
"It's one of the options we are exploring, but it's very early days yet."
He added: "If we don't find a sponsor for the 2015 Christmas lights then they might not go ahead."