Kniveton farmer accuses government of turbine double standards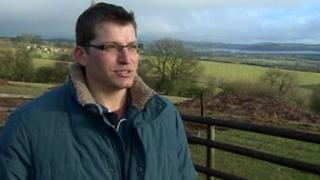 A farmer has accused the government of double standards on green energy after a battle to build two wind turbines.
Craig Barks from Kniveton, Derbyshire has spent four years changing his designs, only for his appeals to be rejected by the Planning Inspectorate.
He says despite this, the construction of four giant wind turbines in nearby Carsington Pastures has been approved.
The Planning Inspectorate says it takes each appeal on it own merits, plus the legislation and policy at the time.
'Mixed messages'
Mr Barks currently uses a generator to power his farm, which he says is too costly.
He first applied for the 70ft high wind turbines on his land in 2010.
Since then he has brought them closer to the main building and reduced their size.
"I have tried to work with the local council and taken into account the local views and the government objective to come up with something that is acceptable for the farm," he said.
"Throughout that time I have put these applications in and the government has given mixed messages which doesn't help people to know what they are doing."
The Planning Inspectorate approved the building of the four 300ft high turbines in Carsington Pastures five years ago, with some conditions.
A spokesman said: "Inspectors are appointed to hear wind farm appeals for their experience, skill and judgement and will always remain impartial when deciding an appeal."
Derbyshire Dales District Council says it makes decisions "on a case-by-case basis" and has previously rejected applications for wind turbines in the area.
Rob Norris, from RenewableUK, a non-profit trade association said 70% of farmers were relying on renewable energy to support their income.
"It does go to show that the planning process is a really hit and miss affair and perfectly good applications are being turned down," he added.
"We need to streamline the process so people know more or less what the outcome will be if they put in an application."