Belper mayor 'bullied' by town councillors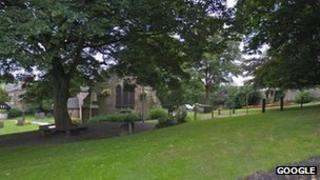 A Derbyshire town mayor claims she is being bullied by fellow councillors after they set up a decision-making committee, which she cannot join.
Conservative Deborah Biss is accused of "embarrassing" councillors at a meeting last November with comments about the town clerk and council.
The dispute stems from her publically questioning minutes written by the clerk after a complaint from a local group she is involved with.
Members said she needed to apologise.
'Getting her own way'
However, in a statement, the mayor said: "The current situation is tragic for democracy as I've only tried to uphold the rights of citizens to get their complaints properly heard - as a result I've been ostracised."
She was speaking on behalf of the Friends of Belper Parks over a resident's objection to the group having a stall at the town's farmers' market.
She added that she has also been "intimidated" by councillors sending letters asking her not to attend meetings.
But Councillor Tony Cox said the criticism directed at the clerk should have been voiced in private.
He said: "Members are not prepared to be involved with her until she apologises."
He added: "She is not being bullied - there are 14 councillors who think she is wrong and one who thinks she is right. She is trying to bully the council into getting her own way."
Mr Cox said: "We've asked her to sit down and talk it over with us and she has refused to speak with anybody."
The new committee will make decisions on issues such as planning, expenditure and grant applications.