Mars One project: Students shortlisted 'to live on Mars'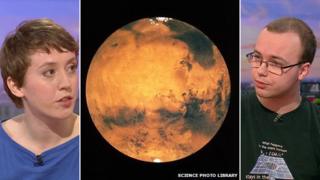 A physics student says he is prepared to put off getting married to help establish a human colony on Mars.
Ryan MacDonald, who comes from Derby and studies at Oxford University, is on a shortlist to join the Mars One project which hopes to send settlers on a one-way trip to the red planet.
He said he was signing up to "live on Mars, not to die on Mars".
Durham student Hannah Earnshaw has also made the shortlist and said it was a chance to explore.
The Dutch project has shortlisted 1,058 people who will be whittled down to 24 in a seven-year course starting in 2018.
The rigorous training programme will feature in a reality TV show and aims to test the wannabe-explorers' physical and emotional capabilities.
"It is not about what you leave behind. It is about the impact you make on earth. For me it is all about the inspiration - I want to help inspire a new generation, just like the Apollo landings did," Mr MacDonald said.
He added: "If I was selected to go into full-time training for this, then I would not get married knowing that this was going to happen.
"It's important that you are open and honest with any potential partner. You can't say, eight years into a relationship, 'sorry I'm going to Mars'."
Ms Earnshaw, a PhD astronomy student at Durham University, accepted she would not see her friends and family face-to-face ever again if she was chosen, but said she hoped they would be able to exchange videos via the internet.
She added she had no plans to get married and have children as she would not want to leave them behind.
"It's a really great thing for humanity to achieve. It is pushing the boundaries, it is exploration - just a whole load of possibilities," she said.
"We don't go to space because we need to get off the planet but because we want to explore and achieve things."
It is hoped the first rocket to take settlers to Mars will leave in 2025 and will carry just four people after several unmanned trips to build a habitable colony.
Guernsey-man Ben De Jersey-Moore was also one of the 200,000 applicants to be selected.