Derby ice rink: Council criticises itself for planning mix-up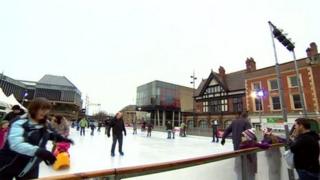 A council has criticised itself for not applying to its own planning department for permission to install an outdoor ice rink.
The rink has been open in Derby since 29 November, but retrospective planning permission was only granted on Friday.
The attraction is due to close on Sunday.
Derby Live, the council's entertainment arm, wrongly assumed that an application granted in 2012 gave permission until 2016.
However, the application only covered one year.
Councillor Sara Bolton, chair of the council's planning control committee, told the Derby Telegraph that the situation had been "embarrassing" for her.
"Derby Live have been spoken to by myself," she said.
"The error lies with them rather than anyone in the planning department or planning committee."
The planning permission granted on Friday allows the ice rink to be in place for a maximum of 46 days in any 12-month period.
It lasts until 31 January 2021, but details have to be submitted and approved each time the ice rink is installed.
The council received no objections from the public.