Mapleton Bridge jump: People take part in Ashbourne tradition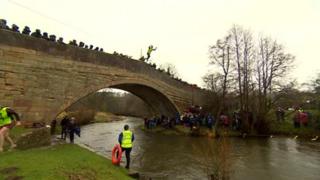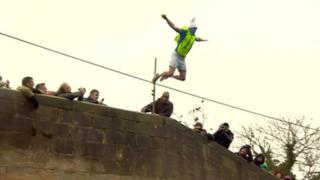 An annual New Year's Day tradition which sees people jumping off a town bridge into a river has taken place in a Derbyshire town.
The jump at the Mapleton Bridge in Ashbourne attracted big crowds as people jumped off the 30ft bridge into the River Dove.
This year 30 people braved the cold weather to take part in the event.
Charles Wimbush from the Ashbourne and District Lions Club said the jump was about "competitiveness and bravery".
"Ashbourne is famous for two slightly mad things - Shrovetide and this jump," said Mr Wimbush.
"Both are eccentric and mad-capped traditions of Ashbourne, and long may this continue."
The jump, which started in the 1980s, is held each year to raise money for local charities.
Onlooker Diana Wright added: "This started as a bet one year when someone decided to jump off the bridge on New Year's Day. Then it became a fundraising thing and now it is a town tradition.
"Everyone is very brave and people here just love it."
Teams of two start with a 700-metre boat race and then take a plunge into the river before running to the finish line at the Okeover Arms pub.
This year's winners were George Ditchfield and Terry Brown.