Peak District sinkhole: Public warned to stay away from Foolow hole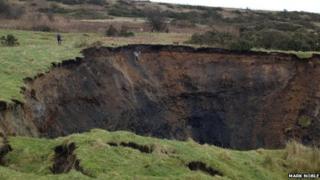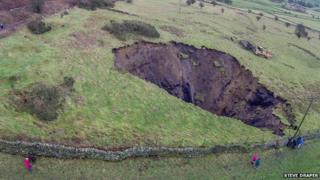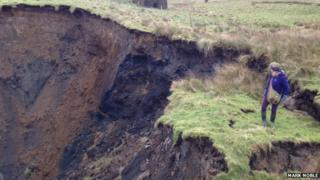 Members of the public have been warned to stay away from an "unpredictable" sinkhole in Derbyshire's Peak District.
Police have been called in by council officials after widespread media coverage attracted visitors to the site, near Foolow, "to take pictures".
The hole, believed to be about 160ft (49m) wide and 130ft (40m) deep, was caused by mining in the area, according to landowner British Fluorspar.
The firm has been asked to stabilise the hole and fill it in.
The Peak District National Park Authority issued the warning after people, who had seen news coverage of the sinkhole, arrived to take photographs.
'Getting bigger'
Derbyshire County Council, which has closed a nearby track, confirmed it contacted the police earlier "to reinforce the message that people should stay away" from the site.
John Lomas, from the park authority, said: "The hole can be seen from public roads nearby.
"People can take pictures from the road if they must but they seem to be ignoring the closure of the footpath to get closer.
"That really does become a safety issue."
He said British Fluorspar were confident the cause was the collapse of an old mine shaft and not new mines being worked in the area.
"Every time it rains, it weakens the ground," Mr Lomas added.
"There's always the possibility another hole could appear nearby. It's unpredictable.
"This sort of collapse can happen in old workings, it's not unusual."
Caver Mark Noble, 58, from Eyam, said he saw the hole during a walk on Christmas Day, but believes the land began to fall the day before.
Mr Noble said: "It's quite a large hole and it's getting bigger all the time. It's probably increased by about 10% since it opened up.
"It is quite interesting but there are two other similar large holes that appeared about half a mile away from this one in the 1970s, so it's not a new thing."