Derbyshire council investigates over elderly woman's care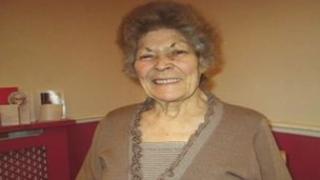 A woman's complaint about the treatment of her elderly mother at a care home on Christmas Eve is being investigated by a local authority.
Police were called to take dementia sufferer Sarah Finney, 81, from Derbyshire, to hospital after care home staff say she became violent.
Her daughter Isla Vipond said she was "disgusted" by how she was treated.
Derbyshire County Council said her removal was the "result of an unexpectedly very difficult situation".
Mrs Finney had been at the council-run Beechcroft Nursing Home in West Hallam for a number of hours when staff said she became agitated.
Ms Vipond said: "The staff could have called us and we would have sat with her and calmed her down.
"I would have thought they would have called a doctor. Instead they called police who didn't know what to do."
A Derbyshire County Council spokesman said: "We would never evict someone from one of our homes and Sarah's admission to Royal Derby hospital on Christmas Eve was the result of an unexpectedly very difficult situation for everyone involved.
"We are in contact with the family and will be sharing the results of the investigation with them as soon as it is completed."