Petition opposing Derbyshire Fire Service cuts handed in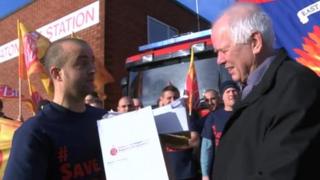 More than 40,000 people have signed a petition opposing cuts to Derbyshire fire service.
It announced proposals in September that could see the number of stations reduced by a third and full-time firefighters cut by a quarter.
The service said it had to cope with a 40% cut to its budget.
The petition was presented to Derbyshire Fire Authority which said it hoped to create a "more palatable" plan.
'Enormous number'
The petition was launched in October to coincide with the start of a public consultation on the plans, which ends on 23 December.
Roland Hosker, who is chairman of the fire authority, said: "It's an enormous number. There is no doubt about that and I can understand people wanting to sign that kind of petition."
He added: "We've now got two to three months to come up with something a lot more palatable than what we started with and I'm happy with that.
"I'm confident the closures will be scaled back, but it's up for grabs and no decisions have been made."
Chris Tapp, from the Derbyshire branch of the Fire Brigades Union, said it was an "excellent" petition and thanked everyone who signed.