Al-Madinah free school 'in chaos' but pupils are 'now safe'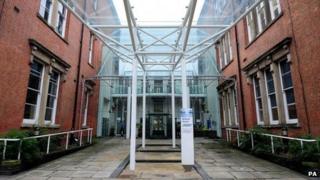 A school placed into special measures after Ofsted judged it as inadequate "remains in chaos", according to a new report.
There are "no signs of improvement" at the Al-Madinah school in Derby, an Ofsted monitoring inspection in November found.
The school shut temporarily, citing "health and safety concerns", after inspections in October.
The latest inspection found that pupils are "now safe".
Five members of staff and 47 pupils left the school between the two inspections.
The latest Ofsted report states: "Insufficient action has been taken to address the numerous failures in leadership and teaching.
"In addition, the uncertainty around governance and leadership has contributed to the school being less stable than it was at the time of the last inspection."
According to the report, the school is not improving because relationships between school leaders are "destructive and deteriorating".
'Significant issues'
Last month, Education Minister Lord Nash asked Greenwood Dale Foundation Trust (GDFT) to work with the school.
But GDFT chief executive Barry Day has now said the trust should not run the school until "significant issues" are resolved.
He said he had made recommendations for changes to governance, finance, procurement and staff contracts ahead of a final decision.
He added that the trust could provide education support to the school if asked, but no-one would take on a temporary or permanent staff post.
A spokesman for GDFT, which runs several academy schools across the East Midlands, added that the trust had also made "very strong" recommendations about the organisation of the school sites.
The trustees at Al-Madinah previously agreed to resign, with effect from the end of January, along with the chair of governors, Shazia Parveen.