Swans killed at Attenborough Gravel Pits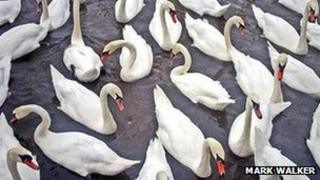 Several swans have been killed in a series of crimes at a wildlife spot - with some carcasses found plucked.
Derbyshire Police is asking people using the Attenborough Gravel Pits area to look out for any suspicious behaviour.
Swans are protected under the Wildlife and Countryside Act 1981 and it is an offence to kill one intentionally.
The first report made to police was on 20 November, when several dead swans were found in the area.
PCSO Paul Boss said the killings were "not only very cruel, but illegal".
"It potentially looks as if they had been shot by a gas canister and it is clear from the carcasses that the feathers had been plucked," he said.
"We do not believe this to be an animal attack and this puts it into a serious category of crime."
He asked people to contact police immediately if they see any suspicious behaviour.