North Wingfield house fire: Funeral held for mother and sons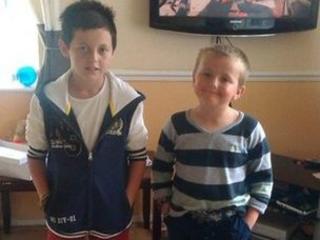 A funeral has been held for a mother and her two children who died in a house fire in north Derbyshire.
Josie Leighton, 32, and her sons Jordan Green, nine, and Tyler Green, 12, died from the effects of smoke inhalation after the blaze in North Wingfield.
The service took place at St Lawrence's Church in North Wingfield with the burials at Dark Lane Cemetery.
The funeral of Ms Leighton's friend Claire James, 27, who also died in the fire, was held on Wednesday.
Ms James's seven-year-old daughter escaped with minor injuries after the blaze, which broke out on 20 November.
Community support
Derbyshire Fire Service said the fire had been caused by faulty electrical wiring.
More than £5,000 was raised last weekend by members of the community for the funerals of the four victims.
The Rev Colin Cooper, who led the service, said: "There has been a sense of people working together in the village.
"A number of initiatives have taken place to raise money and it has been impressive.
"A huge amount of compassion and kindness has been shown by the people of North Wingfield."
Danette Bradder, one of the organisers of the fundraiser, said she had been amazed by the support everyone in the town had shown the two families.
"I knew the community in North Wingfield would pull together because everybody knew them," she said.
"So we just wanted to do something as a community to help both families, while giving them time to grieve."